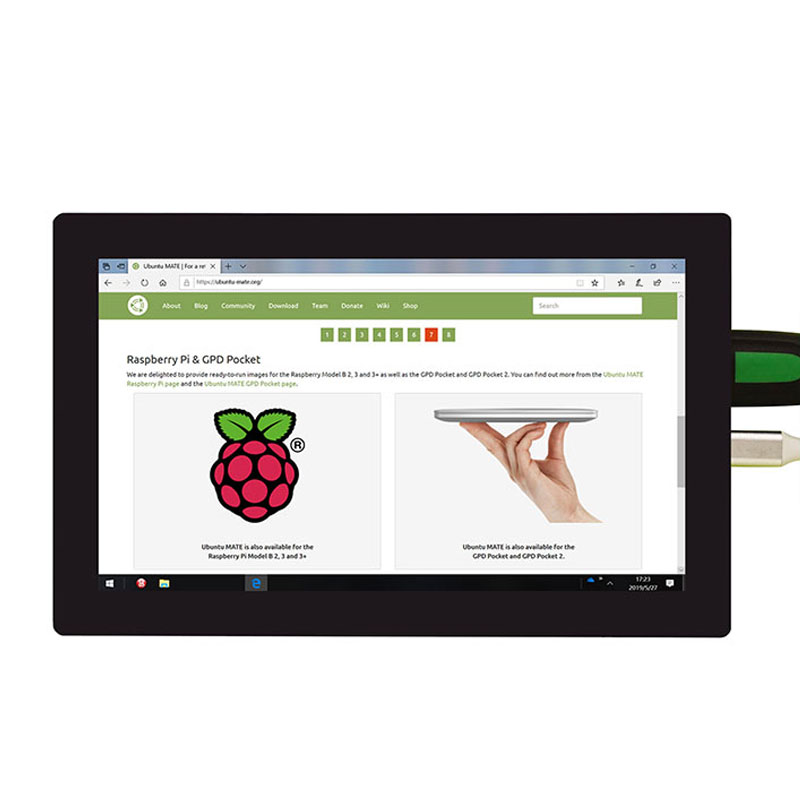 7英寸HDMI LCD显示屏1024×600
Product Advantage of the 7 inch HDMI LCD Display 1024×600
USB power supply, USB is both power supply interface and touch interface;
Mature HDMI decoding chip with stable performance;
The capacitive touch screen adopts the structure of G+G with fully extinction tempered glass, which supports 5 touch points mostly and would make the customer experience well;
Windows system would be self-adaption, customer only need to configure HDMI output resolution for other systems . It would greatly save time for customers debugging LCD driver,  and customers quickly develop their own products conveniently.
PCB adopts double-sided gold sinking process with stable and reliable performance.
Positioning holes are reserved around the PCB to facilitate customer installation and fixation.
Product Quality Control of the 7 inch HDMI LCD Display 1024×600
Before package and shipment, the original products will be tested one by one by our technicians and QC team to make sure the quality of every product is good.
We will test goods strictly according to our standard inspection before shipment.
Accessaries of the 7 inch HDMI LCD Display 1024×600
7 inch HDMI LCD x1
1M HDMI cable x1
1M USB type A plug to micro B plug cable x1
DESCRIPTION
7 inch IPS LCD Display, 1024×600 resolution, Capacitive Touch Screen LCD, HDMI interface for displaying, Micro-USB port for the touch panel and power, Designed for Raspberry Pi, BB Black, Banana Pi Nano Pi, etc;The following is about 7 inch HDMI LCD Display 1024×600 related, I hope to help you better understand 7 inch HDMI LCD Display 1024×600.
Product instruction of the 7 inch HDMI LCD Display 1024×600
We supply 7 inch HDMI LCD Display 1024×600 which is 1024×600, IPS screen, 7 inch Capacitive Touch Screen LCD, HDMI interface, supports various systems
Product Specification of the 7 inch HDMI LCD Display 1024×600
| Item of general information | Contents |  Unit |
| --- | --- | --- |
| LCD Display Size(Diagonal) | 7 | inch |
| LCD Display Type | TFT/IPS | – |
| LCD Display Mode | Normally White | – |
| Recommended Viewing Direction | Free | o'clock |
| Gray inversion Direction | 6 | o'clock |
| Module size (WxHxT) | 176.40×114.00×8.6 | mm |
| Active area (WxH) | 154.08×85.92 | mm |
| Number of pixels(Resolution) | 1024RGBx600 | pixel |
| Pixel pitch (WxH) | 0.1506×0.1432 | mm |
| Color Pixel Arrangement | RGB Stripe | – |
| LCD Driver IC | TBD | – |
| Module Interface Type | HDMI(Display)&USB(touch) | – |
| System Support | Android/Win7/Win8 | |
| Module Input voltage | 5.0V | V |
| Module Power consumption | TBD | mw |
| Color Numbers | 16.7M | – |
| Backlight Type | White LED | – |
Product Feature and Application of the 7 inch HDMI LCD Display 1024×600
7 inch IPS screen, 1024×600 hardware resolution;
Capacitive touch control;
Supports popular mini PCs such as Raspberry Pi, BB Black, as well as general desktop computers
When works with Raspberry Pi, supports Raspbian/Ubuntu/Kali/Retropie/WIN10 IOT, driver free;
When work as a computer monitor, supports Windows 10/8.1/8/7, five-points touch, and driver free;
Product Drawing of the 7 inch HDMI LCD Display 1024×600